Welcome to Visual Impact's April 2019 newsletter specials
We are very excited to announce the arrival of the
Alexa Mini LF.
ALEXA MINI LF inherits the same full-frame + sensor and LPL mount from the bigger ALEXA LF, and combined with the same ARRI colour science offers cinematographers and editors an already very familiar workflow designed to flawlessly mix and match footage from different ARRI cameras, while still preserving the industry's best overall image quality, super dynamic range and organic skin tones.
#ALEXAMiniLF #ARRILargeFormat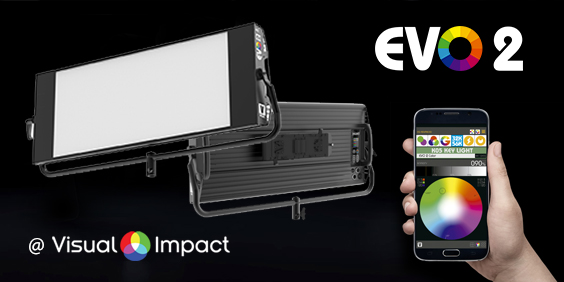 EVO 2 produce more light output with less power consumption.EVO 2 It is much more efficient than any other LED soft light, is the market leader on output-to-weight and output-to-watt (5 Lux per watt) producing 1000 Lux at 3 m / 93 fc at 10 feet drawing only 200W.
EVO 2 5 Lux per watt

Full output both AC and DC

More running time using standard Vlock or Gold 14,4V batteries

100% fan-free and silent operation No maintenance required. The fixture can be operated close to an actor, it is not necessary to pause to fan noise.
EVO 2 has been specially designed for location: portable, easy to handle, weatherproof, robust, quick to install and ergonomic to adjust. The ratio light to weight is optimum. Its ergonomic handles make it easy carrying by 1 person during a film.
We can proudly announce that Visual Impact is the new reseller for Angenieux Lenses
Angenieux provides a unique range of zoom lenses perfectly suited for productions ranging from top quality to mid-range. Purposely built for cinematic production, our lenses achieve excellence in design, mechanical and optical perfection. Visual Impacts' new Angenieux Reseller status features the Optimo range, the Optimo Style range and the EZ series.
Visual Impact Sony Venice camera package is on
SPECIAL OFFER
Sony Venice 6K Full Frame Camera

Full HD OLED Viewfinder

AXS-R7 Portable Memory Recorder

AXS Memory Media 512GB

Sony Memory Card Reader

2-year warranty

Venice Anamorphic Licence and Venice Full Frame Licence (Valued at R140,000) included.
Visual Impact now offers a Sony exclusive 2-year extended warranty on all Sony broadcast equipment.
Sony has released firmware 3.0
The lightweight easy to use tethered extension system allows the camera body to detach from the image sensor block with no degradation in image quality, from 9 or 18 feet apart, offering a highly configurable and portable method of operation.
Available at Visual Impact
Great quality and Affordable 2/3" portable lenses with excellent focal range and optical performance. Ergonomic design creates improved handling with less fatigue.
Visual Impact now offers a 3-year ARRI Skypanel warranty
SkyPanel is a compact, ultra-bright and high-quality LED soft light that sets a new standard for the industry. With a design focused on form, colour, beam field and output, SkyPanel represents the culmination of more than a decade of research and development of LED technology at ARRI.